Spokesman Coffee was developed by service industry professionals that desired more than the usual coffee / café experience. Our unique café was designed to be the ultimate platform for our small-batch roasted coffee to shine. We look to connect with wholesale accounts that take care in conveying the passion behind the coffee that we source and roast. As our reach grows, our aim remains the same. We work to provide an outstanding product that speaks for itself with an eye for being friendly, educated and approachable throughout.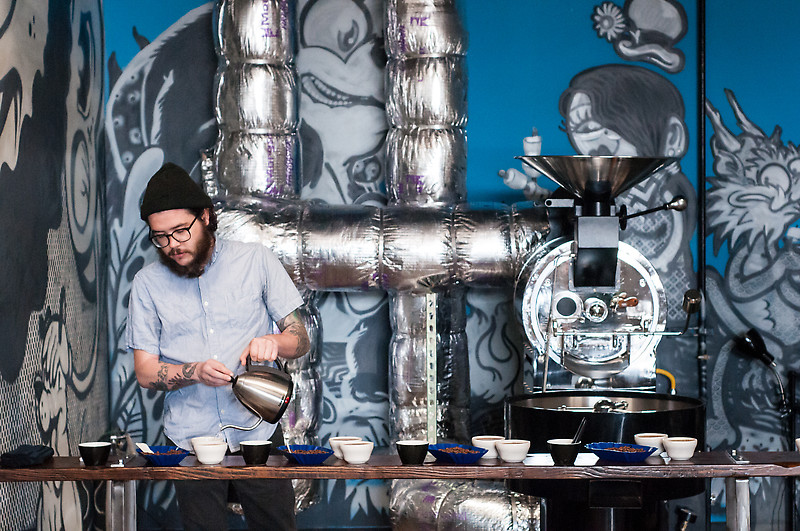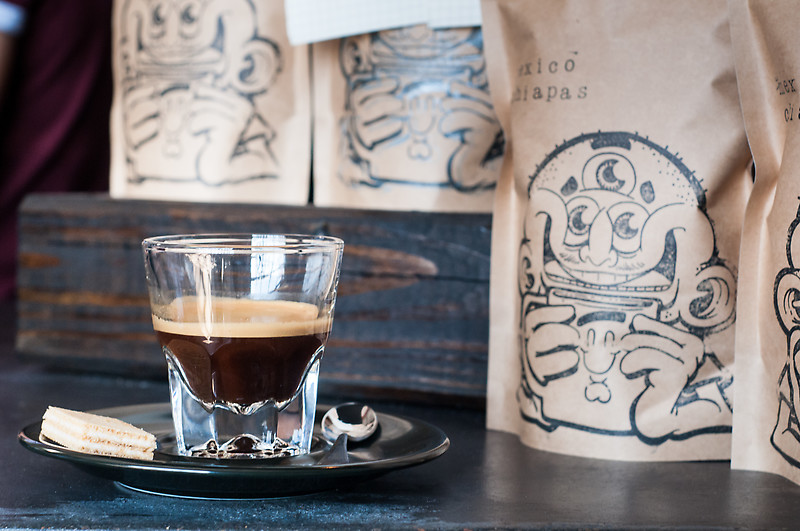 Black Mass Vol. III
1800 MASL / Washed & Sundried / Caturra, Bourbon, Typica, & Catuai
Once a year we slither out under the cloak of moonlight to produce our dark roast. This year's selection comes to us from Felipe Ramirez's Finca Beatriz in Guatemala. Hailing from Todos Santos in Huehuetenango this coffee is ripe for a little extra roast. Black Mass Vol. III opens with a smooth acidity, a touch of fruit, and a massive sweetness. Once the cup begins to cool, its true color comes forward to reveal a kiss of the roaster. Hyper limited and ready for the fall. Drink it in the dark.
NOTES: Carmel, Blueberry, S'mores, Brown Sugar
Ethiopia Yirgacheffe Misty Valley
1750-1950 MASL / Naturally Processed/ Heirloom Varietals
This fresh crop, naturally processed Ethiopia comes to us all the way from the famed region of Yirgacheffe. Misty Valley is a stunning execution of the natural process bursting with a blueberry sweetness and a silky milk chocolate backbone. Producer Abdullah Bagersh ensures the coffee is picked ripe and rotated during the drying process, so all of the famed floral and citrus notes are well preserved in the cup. Expect a huge sweetness and an evolving complexity leading to an extremely satisfying drink.
Notes: blueberry, milk chocolate, cotton candy, lemon bar
Mexico Mocabe
1350 MASL / Fully Washed / Bourbon, Caturra, & Catuai
Grown organically by a farming co-op in the municipality of Motozintla De Mendoza in Chiapas, this coffee is our favorite coffee to wake up to. This coffee is grown by a social solidarity society known as Mocabe whose aim is to improve the lives of coffee producers, improve environmental conditions, and positively benefit their communities. The orgsanically grown Mexico Mocabe is a perfect comfort cup leaving you with notes of milk chocolate and a mellow nuttiness.

Notes: milk chocolate, hazelnut, lime flesh, ground cinnamon

Art: Tony Perez
Colombia La Paz Microlot
1850 MASL/ Fully Washed/ Caturra & Castillo
Our fresh crop Colombia offering comes to us by way of Juan Francisco Ortiz and his La Paz farm. Juan grows his Caturra and Castillo varietals on a total of 15 hectares, averaging 1850 MASL. La Paz uses no herbicides and utilizes manual control and shade trees to ensure a consistent and delicious cup.
Notes: cinnamon graham cracker, lime flesh, silky body, dark chocolate
Art: Conrad Keely
Kenya Nguvu AA Plus
1750 MASL / Washed & Sun-dried / SL28 & Ruiru 11
Our next offering from Kenya comes by way of the Murang'a district. Nguvu is a regional collection from 4 different cooperatives, each using their respective mills, and compiled via blending at origin. This allows for a coffee that is truly representative of the Kenyan terroir. Nguvu leads with a note of raspberry and, as it cools, opens up to a beautiful sparkling acidity with a strong grapefruit note and a touch of savory that leaves you wanting another sip. The cooperatives and mills represented within this regional blend are as follows: Ruthaka Kamuchuni, Ruthaka Mukui, Mwirua Riakiania, and Mwirua Kiambwe.
Notes: raspberry jam, grapefruit, mango, fresh tomato
Art: Tom C.
Nicaragua Finca Porvenir
1
200 MASL / Fully Washed / Red Catuai
Donald Cuarta's Finca Porvenir lies within the coffee dense area of San Fernando in Nicaragua. Nestled within the department of Nueva Segovia, Donald's farm is growing and processing exceptional coffee. Alongside other Texas coffee roasters, we were able to cooperatively purchase coffee directly from Finca Porvenir. We are even more excited to have selected a single varietal Red Catuai microlot among the offerings from Finca Porvenir. This coffee is an excellent everyday drinker. A strong vanilla custard backbone is complemented by notes of peanut butter and coconut.
Notes: vanilla custard, peanut butter, coconut, pound cake
Art: Skele
Colombia El Paraiso Natural
1750 MASL / Naturally Processed / Castillo
Martin Montaño's farm, El Paraiso is nestled within the department of Caldas in the region of San Peregrino. This fully Castillo microlot coffee is taken to the absolute extremes of the natural processing method. The beauty of this coffee is in its personality, as it bursts from the seams with massive coffee fruit flavor. Have no fear of being smacked in the face with notes of cherry liquor, ripe blueberry and the tang of a nice sour wild ale. El Paraiso is truly a coffee for adventurous drinkers as it explores the outer realms of natural processing and the fermentation that occurs within it. Take a chance, take a sip, and throw your pallet across the room.
Notes: cherry liquor, ripe blueberry, sweet tarts, sour wild ale
Art: Tavis
Decaf Colombia Trilladora Andes Mill
1700 MASL / Fully Washed / Colombia, Caturra, Castillo
Our current decaf option comes by way of the Cauca region of Colombia. The cherry is processed at the Trilladora Andes Mill and then transferred to the Descafecol Plant for decaffeination. The caffeine is removed using water and ethyl acetate, which is a natural byproduct of sugar cane processing. This leads to an extremely sweet coffee with a minimum of 97 percent of its caffeine removed.
Notes: hard candy, sweet cream, milk chocolate
Art: Briks